Contactless Lawn Care. Book NOW to get UNLIMITED Weed Control.
LAWN CARE SERVICES IN WINNIPEG, MB.
DON'T YOU DESERVE TO ENJOY YOUR LAWN THIS YEAR?
Having a well kempt lawn is no longer just something to be proud about. With social distancing here for the foreseeable future, it's also your comfort at stake. Don't stay indoors all day and night, your lawn is a great safe place for you and your family to spend time outside, breathing fresh air and sitting on soft green grass. Lawn Man Lawncare will help give you a luxurious looking and feeling lawn,so you no longer have to feel embarrassed. Give us a call or contact us for your quote.  
A HEALTHY LAWN STARTS HERE… 
Contactless Service

Affordable

Only High Quality Products Used
Book Your Lawn Care Package Now to take advantage of our huge early payment discounts (EXTENDED UNTIL MAY 31ST!) AND…Get Unlimited Weed Control Visits!
Lawn Man Lawncare: Mowing, Aeration, Fertilization, Weed Control in Downtown
Does your lawn grow out of control, forcing you to spend more time on it than you'd like? A good healthy looking lawn doesn't happen on its own, it takes time and effort every season. Get Lawn Man Lawncare and keep your hard earned free time for what's more important in your life! Lawn Man Lawncare specializes in making your lawn look good and healthy, and keeping it that way.
Our goal is for you to be proud of your lawn. Being LOCALLY OWNED AND OPERATED since 1996, we tailor our programs to the direct needs of Downtown lawns. The equipment and materials we use are top of the line, because we want you to have a top of the line experience. We love what we do, and we love serving the great citizens of Peg City.
Call us today to see how we can best serve you.

Lawn Care Programs
From Aeration to weed control to fertilization, we have a number of programs to keep your lawn looking amazing

Lawn Mowing
We keep your lawn well mowed and trimmed weekly, keeping your property looking good without any effort on your part
Keep your lawn looking amazing.
Book Now to Get Unlimited Weed Control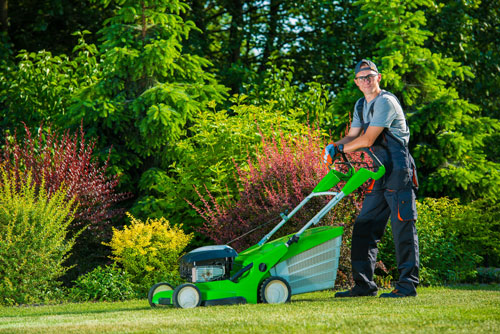 Our Clients
A list of satisfied customers that have worked with us.
Have used your service for more than 20 years. Always been very satisfied. Even after the Government interfered you have still done a good job.
Adding to last years review, still very satisfied. My lawn would be covered in weeds if not for you. Neighbours on the street seem to be cultivating weeds so it is difficult to keep the lawn clear. I also appreciate a call when you are coming as I have a dog.
Been a Lawn Man customer for over 10 years now. Very happy with the improvement to my lawn and can't beat the price.
Extremely prompt service. Staff is friendly and very helpful. Highly recommend.
I've used Lawn Man for years and I've always had a positive experience with them. Their fertilizer has definitely helped. They always came out for additional complimentary weed controls (as part of the plan) and the one time I called for a suspected insect problem, they explained why it wasn't and gave me advice on how to repair my yard. I wanted confirmation on the technician's advice (since it was about a year ago) and I ended up getting the owner on the phone and he was awesome. He helped me out, and I wasn't even subscribed to their services. I felt bad for calling him back a 2nd time for more questions (lol), but he had no issues with it.
Lawn Care Services for the Downtown Area
From Fertilization to Weed Control, we have you covered.
Mowing
Aeration
Fertilization
Weed Control
Pest Control
About Downtown
The Downtown area is one of the most iconic regions of the city, home to a huge range of bars, restaurants, and attractions. Some of the more notable areas include the Bell MTS Centre, home to the Winnipeg Jets hockey team. The area has many cultural attractions like the Burton Cummings Theater, Canada's Royal Winnipeg Ballet, & The Forks Market Place.