Contactless Lawn Care. Book NOW to get UNLIMITED Weed Control.
LAWN CARE SERVICES IN WINNIPEG, MB.
DON'T YOU DESERVE TO ENJOY YOUR LAWN THIS YEAR?
Having a well kempt lawn is no longer just something to be proud about. With social distancing here for the foreseeable future, it's also your comfort at stake. Don't stay indoors all day and night, your lawn is a great safe place for you and your family to spend time outside, breathing fresh air and sitting on soft green grass. Lawn Man Lawncare will help give you a luxurious looking and feeling lawn,so you no longer have to feel embarrassed. Give us a call or contact us for your quote.  
A HEALTHY LAWN STARTS HERE… 
Contactless Service

Affordable

Only High Quality Products Used
Get Unlimited Weed Control Visits!
Lawn Man Lawncare: Mowing, Aeration, Fertilization, Weed Control in Winnipeg
Does your lawn grow out of control, forcing you to spend more time on it than you'd like? A good healthy looking lawn doesn't happen on its own, it takes time and effort every season. Get Lawn Man Lawncare and keep your hard earned free time for what's more important in your life! Lawn Man Lawncare specializes in making your lawn look good and healthy, and keeping it that way.
Our goal is for you to be proud of your lawn. Being LOCALLY OWNED AND OPERATED since 1996, we tailor our programs to the direct needs of Winnipeg lawns. The equipment and materials we use are top of the line, because we want you to have a top of the line experience. We love what we do, and we love serving the great citizens of Peg City.
Call us today to see how we can best serve you.

Lawn Care Programs
From Aeration to weed control to fertilization, we have a number of programs to keep your lawn looking amazing

Lawn Mowing
We keep your lawn well mowed and trimmed weekly, keeping your property looking good without any effort on your part
Keep your lawn looking amazing.
Book Now to Get Unlimited Weed Control this season!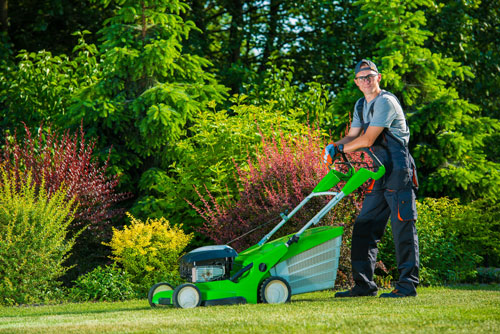 Our Winnipeg Lawn Care Clients
A list of satisfied customers that have worked with us.
Have used your service for more than 20 years. Always been very satisfied. Even after the Government interfered you have still done a good job.
Adding to last years review, still very satisfied. My lawn would be covered in weeds if not for you. Neighbours on the street seem to be cultivating weeds so it is difficult to keep the lawn clear. I also appreciate a call when you are coming as I have a dog.
Been a Lawn Man customer for over 10 years now. Very happy with the improvement to my lawn and can't beat the price.
Extremely prompt service. Staff is friendly and very helpful. Highly recommend.
I've used Lawn Man for years and I've always had a positive experience with them. Their fertilizer has definitely helped. They always came out for additional complimentary weed controls (as part of the plan) and the one time I called for a suspected insect problem, they explained why it wasn't and gave me advice on how to repair my yard. I wanted confirmation on the technician's advice (since it was about a year ago) and I ended up getting the owner on the phone and he was awesome. He helped me out, and I wasn't even subscribed to their services. I felt bad for calling him back a 2nd time for more questions (lol), but he had no issues with it.
Lawn Care Services for the Winnipeg Area
From Fertilization to Weed Control, we have you covered.
Mowing

Aeration

Fertilization

Weed Control

Pest Control
6885 Roblin Blvd, Headingley, MB R4H 1A2 
Hours:
Monday-Friday 8am-6pm
Saturday 9am-2pm
Check out the areas we serve.
Areas We Serve
| | | |
| --- | --- | --- |
| West Winnipeg: | East Winnipeg: | |
About Winnipeg, MB
Winnipeg ( (listen)) is the capital and largest city of the province of Manitoba in Canada. It is centred on the confluence of the Red and Assiniboine rivers, near the longitudinal centre of North America. As of 2021, Winnipeg had a city population of 749,607 and a metropolitan population of 834,678, making it the sixth-largest city, and eighth-largest metropolitan area in Canada.The city is named after the nearby Lake Winnipeg; the name comes from the Western Cree words for muddy water. The region was a trading centre for Indigenous peoples long before the arrival of Europeans; it is the traditional territory of the Anishinabe (Ojibway), Ininew (Cree), Oji-Cree, Dene, and Dakota, and is the birthplace of the Métis Nation. French traders built the first fort on the site in 1738. A settlement was later founded by the Selkirk settlers of the Red River Colony in 1812, the nucleus of which was incorporated as the City of Winnipeg in 1873. Being far inland, the local climate is extremely seasonal even by Canadian standards with average January highs of around −11 °C (12 °F) and average July highs of 26 °C (79 °F). Known as the "Gateway to the West", Winnipeg is a railway and transportation hub with a diversified economy. This multicultural city hosts numerous annual festivals, including the Festival du Voyageur, the Winnipeg Folk Festival, the Jazz Winnipeg Festival, the Winnipeg Fringe Theatre Festival, and Folklorama. In 1967, Winnipeg was the first Canadian host of the Pan American Games.
Neighborhoods in Winnipeg, MB
Downtown, North Point Douglas, Saint Boniface, River Heights, Transcona, River East, Inkster - Faraday, Seven Oaks, North End, Dakota Crossing, Garden City, Eaglemere, Edgeland, Canterbury Park, Charleswood, Niakwa Park, Waverley Heights, Sage Creek, Daniel Mcintyre, Norberry, Talbot - Grey, Fairfield Park, Normand Park, Pacific Industrial, West End, Wolseley, Amber Trails, Burrows Central, Alpine Place, Inkster Gardens, Betsworth, Kildonan Drive, Lord Roberts, Dufferin, Armstrong's Point, Fort Garry, East Kildonan, West Broadway, Crescentwood, Osborne Village, South Point Douglas, South Portage, Minnetonka, Windsor Park, Roblin Park, South Point Douglas, South Pointe, River Park South
Things To Do in Winnipeg, MB
Bus Stops in Winnipeg, MB to Lawn Man - Lawn Care Services Winnipeg
Bus Stop in Winnipeg Square (Eastbound) Winnipeg, MB to Lawn Man - Lawn Care Services Winnipeg
Bus Stop in Kildonan Place Winnipeg, MB to Lawn Man - Lawn Care Services Winnipeg
Bus Stop in Westbound Graham at Garry (Wpg Square) Winnipeg, MB to Lawn Man - Lawn Care Services Winnipeg
Bus Stop in Westbound Johnson Winnipeg, MB to Lawn Man - Lawn Care Services Winnipeg
Bus Stop in Mountain Winnipeg, MB to Lawn Man - Lawn Care Services Winnipeg
Bus Stop in Eastbound Portage at Balmoral (U of Winnipeg) Winnipeg, MB to Lawn Man - Lawn Care Services Winnipeg
Bus Stop in Winnipeg Winnipeg, MB to Lawn Man - Lawn Care Services Winnipeg
Bus Stop in Southbound Arlington at Winnipeg Winnipeg, MB to Lawn Man - Lawn Care Services Winnipeg
Bus Stop in Westbound Portage at Colony Winnipeg, MB to Lawn Man - Lawn Care Services Winnipeg
Bus Stop in Southbound Southwest Transitway at Osborne Station Winnipeg, MB to Lawn Man - Lawn Care Services Winnipeg
Bus Stop in Westbound Goulet at Tache Winnipeg, MB to Lawn Man - Lawn Care Services Winnipeg
Bus Stop in Eastbound Portage at Donald (Canada Life Centre) Winnipeg, MB to Lawn Man - Lawn Care Services Winnipeg
Driving Directions in Winnipeg, MB to Lawn Man - Lawn Care Services Winnipeg
Driving Directions from Cleanr Property Maintenance Snow Removal & Lawn Care to Lawn Man - Lawn Care Services Winnipeg
Driving Directions from Weed Man Lawn Care to Lawn Man - Lawn Care Services Winnipeg
Driving Directions from Imagine Lawns & Landscaping Ltd. - Sod Installation In Winnipeg to Lawn Man - Lawn Care Services Winnipeg
Driving Directions from Moweco Electric Lawn Mowing Service to Lawn Man - Lawn Care Services Winnipeg
Driving Directions from Lawn Man - Lawn Care Services Winnipeg to Lawn Man - Lawn Care Services Winnipeg
Driving Directions from Green Drop Lawns Ltd to Lawn Man - Lawn Care Services Winnipeg
Driving Directions from Mardi Grass Lawn Care to Lawn Man - Lawn Care Services Winnipeg
Driving Directions from The Sodfather Lawncare and Snow Clearing to Lawn Man - Lawn Care Services Winnipeg
Driving Directions from Bergman Lawn Care and Landscaping to Lawn Man - Lawn Care Services Winnipeg
Driving Directions from Hero Snow Removal Winnipeg to Lawn Man - Lawn Care Services Winnipeg
Driving Directions from Beyond Lawn Care & Snow Removal to Lawn Man - Lawn Care Services Winnipeg
Driving Directions from Eco Green to Lawn Man - Lawn Care Services Winnipeg
Reviews for Lawn Man - Lawn Care Services Winnipeg Winnipeg, MB